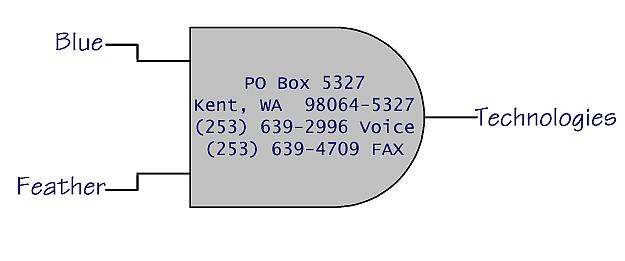 You have arrived at the site of Bruce Lane, owner of amateur radio station KC7GR and, formerly, DBA Blue Feather Technologies
SAGE ADVICE FROM DOUGLAS ADAMS: DON'T PANIC!
I say 'Formerly' only because, since the beginning of 2013, business volume has dropped off to the point where it's no longer viable for me to run Blue Feather as an 'official' business (as in regular hours, merchant credit card account, formal advertising, etc.)
HOWEVER -- I'm still here, and I'm still happy to help out if you need support, repair or modifications for 'legacy' radio hardware, mil spec connectors, and general electronic tomfoolery.
What I can (still) Do...
Easy answer: See the grid below. Pick an item. Click on it. Explore. Relax. Work on your tan. ;-)


Device (Chip) Programming

(Memory, PLD, and Microcontroller devices)

RF Services

(Motorola radio programming, Commercial-to-Amateur Conversions, Parts, Accessories, Modifications, Alignment, Checkout, and Repair).

Specialized Electrical Connectors

(Mil-spec components for either new or surplus aerospace and military hardware)

The Traveling Technoid

(Yes, I still travel a few times a year...)

Looking for my listings of electronics swap meets and surplus stores? Click the link, and you're there!
So how much will it cost?
Services are rendered at the rate of $50.00 per hour, with a half-hour ($25) minimum.
Payment-wise, I can accept all the usuals: Cash, Check, Money Order, PayPal, Credit/Debit cards (processed as credit through squareup.com).
Thanks for visiting. I sincerely hope I can be of assistance with your next project.
This site best viewed with whatever browser you prefer. Seriously. Anything from Lynx to Firefox, and everything in between, should work. There's no cookies, no bugs, and no surveillance outside of the usual log file any web server generates.
---
Last update: 20-Sep-13