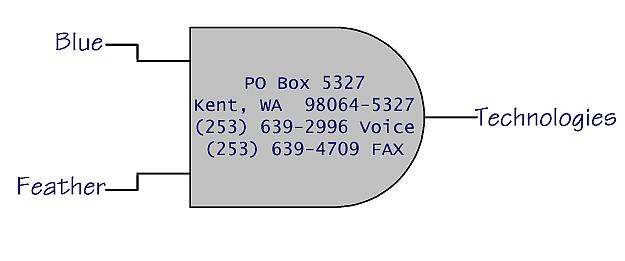 Welcome to Blue Feather Technologies
SPECIAL NOTE REGARDING E-MAILING US:

In the interests of being able to make timely responses to you, our customers, Blue Feather's mail servers are configured with strong spam-filtering measures. These include (but may not be limited to) our own local blacklist of spam sources and open relays, and those maintained by The Spamhaus Project.

EVERY effort has been made to let legitimate E-mail through our filters. However, we cannot rule out the possibility that some such traffic may be blocked, possibly due to being sent through an open mail relay or via an ISP that is known to be a spam source.

IF YOU DO MAIL US, and it bounces, please try phoning or FAXing us. I have, unfortunately, had to discontinue the backup E-mail address due to spam load, and changes in the hosting server that would have made it difficult, if not impossible, to continue.

What We Do...

Lots of things, but our primary aim is to support 'legacy' equipment which still may be useful to the Amateur ('ham') radio and electronic hobbyist communities. This includes preserving and archiving of older manuals, firmware, software and hardware, support for radio equipment Motorola no longer makes (or, apparently, cares about), and generally tackling the 'oddball' things a typical radio shop or commercial engineering support company would consider 'uneconomical.'

Please click on one of the links in this table for more information.


Device (Chip) Programming

(Memory, PLD, and Microcontroller devices)

RF Services

(Motorola radio programming, Commercial-to-Amateur Conversions, Parts, Accessories, Modifications, Alignment, Checkout, and Repair).

Specialized Electrical Connectors

(Mil-spec components for either new or surplus aerospace and military hardware)

About Blue Feather

(Our history and customer pledge)

The Traveling Technoid

(The Non-Commercial Side)

News from BFT

(All the bits fit to print...)

Blue Feather File Archive -- Coming Soon...

Looking for my listings of electronics swap meets and surplus stores? Click the link, and you're there!
My amateur (ham) radio page.
Base Rates and Other Details...
Our base labor rate is $50.00/hour with a half-hour ($25.00) minimum.
Net-30 terms are available to OEMs, corporate accounts, and government entities. Trades of equipment in exchange for work are also considered.
If you would like to discuss your specific project requirements, please feel free to contact us via phone, FAX, or E-mail.
Why does our page look so sparse?
That's easy. You most likely came here to obtain straightforward and concise details about our services, and not to be inundated with pushy banner ads.
So be it. Although it is possible those of you with a marketing background may think of it as 'old fashioned,' it is my firm belief that one should not have to dig through megabytes of hyperactive animated graphics, touting the latest in sideburn removers or whatever, to get to the information one wants.
Thanks for visiting. I sincerely hope that we can be of assistance with your next project.
This site best viewed with whatever browser you prefer. Seriously. Anything from Lynx to Firefox, and everything in between, should work. There's no cookies, no bugs, and no surveillance outside of the usual log file any web server generates.
---
Last update: 10-Apr-12