The Traveling Technoid
---
A safe(?) haven for those technically inclined souls who believe that Common Sense, Free Will, the Doctrine of First Sale, a decent multimeter and a Weller soldering station still have a firm place in this world. To put it more simply, I've dedicated this part of my site to those who are firm believers in the 'Freedom to Tinker!'
"...What happened to home-brewed and breadboarded circuitry? Where's the joy of mechanics and electricity, the creation of real things? Who are the tinkerers with a lust for electronics? We've become a nation of appliance operators, who take pride in what we own rather than what we build..." (Cliff Stoll, from his book 'Silicon Snake Oil,' page 75).
---
Blue Feather's FTP Archive is available again, with changes...
Thanks to an unbelievable amount of bulk downloading abuse (you don't want to see what the bandwidth usage graph was doing), I've come to the unfortunate conclusion that running an anonymous FTP archive, without any kind of limits, is an exercise in frustration for all concerned.
With this in mind, I have implemented a new access-controlled system running under FTPS. Accessing the library will now require a secure-capable client, such as WinSCP or Filezilla. The system itself, and our firewall, has been configured to accept only one protocol: FTPS, also known as FTP with implicit SSL encryption.

Once you have your client set up, you will need to make an entry for the site ftps.bluefeathertech.com. Next, you will need to Email me for the current access password (which will, periodically, be changed). I will maintain a list of all who ask for said password, and send out a notification to this group when it changes.

Please feel free to share the password with others you know who may need it, but please avoid posting it in any public forum or on a mailing list. If you need to share it with someone, please do so in a private message to them, and ask them to respect the same request.

These measures will, I think, guarantee the ready availability of the archive for those who truly need it as well as locking out the abusers.

Thanks for your patience.
---
Contents
The Wonderful World of Scrounging
---
Real Dalek Sighting in California (where else?)!
Clench your teeth and grit your fists, gang! An actual Dalek sighting has been confirmed in California, specifically in the Bay Area. One of the Traveling Technoid's spys was fortunate enough to catch a photo of the beastie, shown here in all its tin glory (and reproduced by the kind permission of J.D. 'Illiad' Fraser at User Friendly).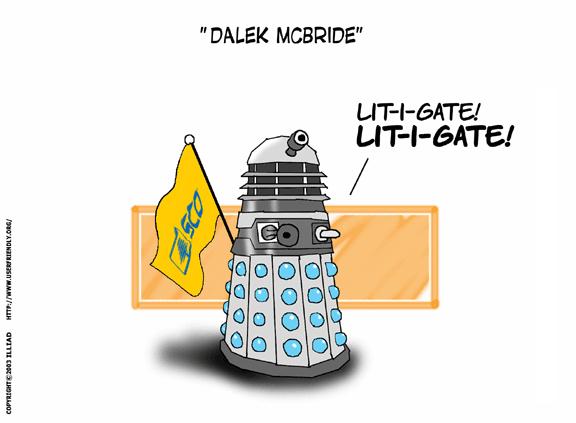 ---
Last Updated 10-Feb-19, by Bruce Lane