The Traveling Technoid
---
A safe(?) haven for those technically inclined souls who believe that Common Sense, Free Will, the Doctrine of First Sale, a decent multimeter and a Weller soldering station still have a firm place in this world. To put it more simply, I've dedicated this part of my site to those who are firm believers in the 'Freedom to Tinker!'
"...What happened to home-brewed and breadboarded circuitry? Where's the joy of mechanics and electricity, the creation of real things? Who are the tinkerers with a lust for electronics? We've become a nation of appliance operators, who take pride in what we own rather than what we build..." (Cliff Stoll, from his book 'Silicon Snake Oil,' page 75).
---
Blue Feather's FTP Archive has been modified...
I've reinstated the ftp address, mainly because I found out many web proxies block .exe and .zip files.
So: You can get to it here...
---
Contents
The Wonderful World of Scrounging
Real Dalek Sighting in California (where else?)!
Clench your teeth and grit your fists, gang! An actual Dalek sighting has been confirmed in California, specifically in the Bay Area. One of the Traveling Technoid's spys was fortunate enough to catch a photo of the beastie, shown here in all its tin glory (and reproduced by the kind permission of J.D. 'Illiad' Fraser at User Friendly).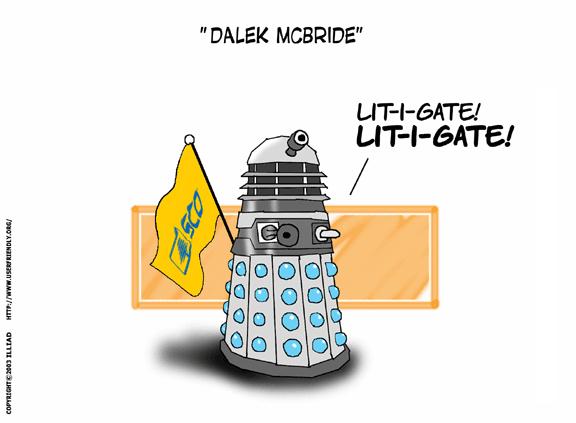 ---
Last Updated 21-Sep-13, by Bruce Lane